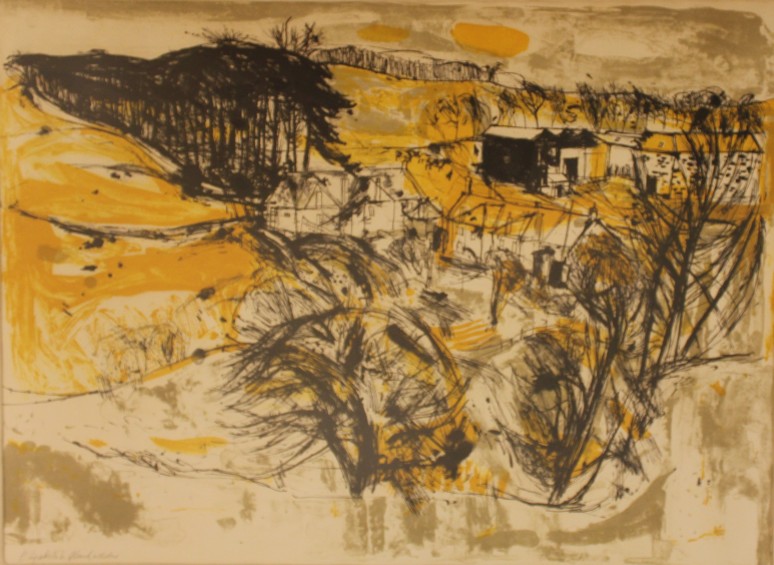 Fifeshire Farm
Fifeshire Farm, 1960, Lithograph
Elizabeth Blackadder (Scottish, born 1931)
#2013.0001.0482

Framing: gilt frame.
Frame: 24 1/2" x 31"
Elizabeth Blackadder is a Scottish painter, printmaker and watercolor artist. She is well known for her detailed watercolor still lifes, particularly of flowers, but she also paints landscapes and portraits in both oil and watercolor. Her work makes use of delicate lines and soft colors, yet it is grounded in a strong sense of design and a mastery of technique. Born in 1931, Blackadder studied at the Edinburgh College of Art. In 1954, she was awarded a Carnegie Traveling Scholarship, which she used to tour Yugoslavia, Greece, and Italy while studying classical and Byzantine art. In the 1970s, Blackadder became interested in Japan, first visiting the country in the 1980s, and her artistic style during this period reflects the influence of Japanese Zen teaching. Blackadder was the first woman to be elected a member to both the Royal Scottish Academy in 1972, and the Royal Academy in 1976, and she was appointed Her Majesty's Painter and Limner in Scotland in 2001.
(click image to expand)