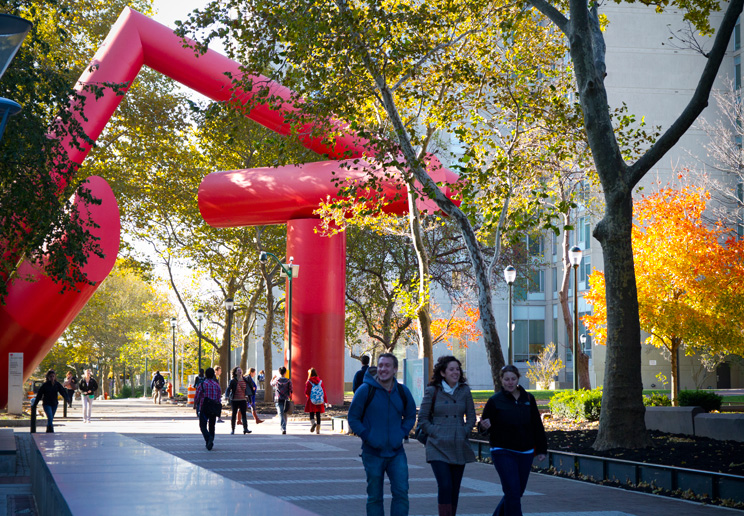 Covenant
Covenant, 1974, Steel
Alexander Liberman (Russian / American, 1912 – 1999)
#0000.0751.0001

Gross Area (sq. ft.): 540" x 408" x 804". Painted Cor-ten steel: red. 45'H x 34'W x 67'D (irreg). 5 major cylindrical units, 12' diameter sections.
[metaslider id=1140]
When Alexander Liberman's abstract, steel pipe, Covenant was installed at 39th Street and Locust Walk in 1975, it attracted more detractors than supporters. Made from rolled sheets of milled steel painted cherry red, some students and faculty panned the sculpture as "gross" and "hideous." Perhaps one of the most remarked upon pieces of public art at Penn, it continues to inspire public debate and conversation. The reactions have ranged from one observer's delighted "I think it's great, I really like it," to a WXPN-organized attempt to knock it over with sound waves (it failed). The sculpture's purchase was part of a citywide ordinance that requires one percent of all expenditures for city-assisted construction to be used to purchase art. Liberman, the artist, intended to convey a feeling of bonding together for a high purpose. Besides being a pioneer in large abstract sculpture, Lieberman was a significant figure in fashion publishing, serving as Art Director for Vogue and editorial director of Condé Nast Publications.
Location
: Locust Walk at 39th Street, Philadelphia PA
view on campus map