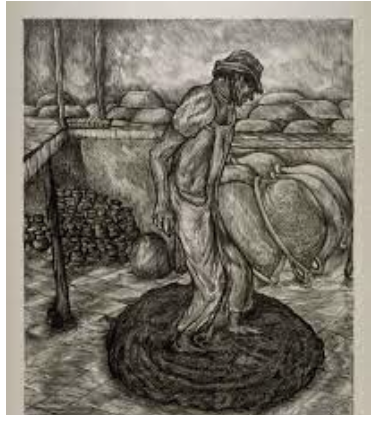 Pottery Maker
Pottery Maker, Lithograph
Isidoro Ocampo (Mexican, 1910 – 1983)
#2013.0001.0573
Isidoro Ocampo was born in a coastal city in Mexico. Though Ocampo took up an interest in arts at a young age, his family's financial circumstances encouraged him to study business, as it was seen as more lucrative and reliable. Ocampo eventually followed his passion to become an artist by taking art classes in the evenings at the academy of San Carlos and becoming an active member of the Liga de Escritores y Artistas like other artists in this series. However, unlike other artists featured in the Mexican People Portfolio, Ocampo did not openly support communism, though his work frequently explored themes of poverty and the lives of workers.