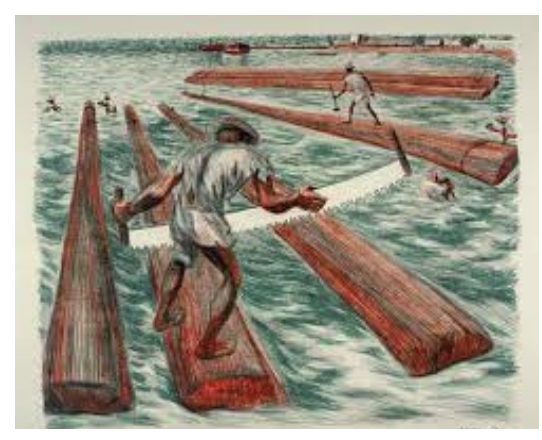 Lumber Workers
Lumber Workers, Lithograph
Alfredo Zalce (Mexican, 1908 – 2003)
#2013.0001.0573-11
Alfredo Zalce grew up during the Mexican Revolution in an area where rival forces engaged in conflict. He began to draw at a young age and eventually attended the Escuela Nacional De Arts Plasticas. Zalce's work focused on social activism and along with Mendez and O'Higgins, was also a founding member of the Liga de Escritores y Artistas. In addition to his famous murals, Zalce worked in engraving, mono typing, ceramics, and lithography. Lumber Workers or Los Obreros De Madura is one of just a few color prints in the Mexican People series. Here a barefoot figure balances on one end of a log, a sharp saw in his hands. Zalce's composition is energetic, underscored by the dynamic placement of the timber and the dapped green and white of the water. All these elements emphasize the danger of the work, the precariousness of the figure further illustrated by the torn clothing he wears.