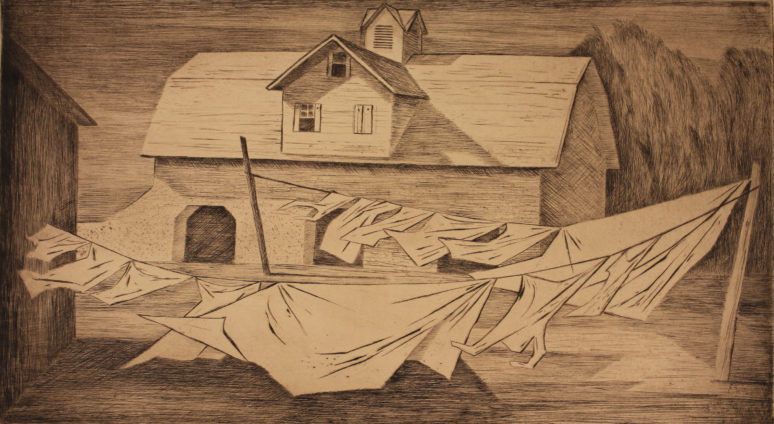 Clothesline
Clothesline, 1975, Etching
Ethel Magafan (American, 1916 – 1993)
#2013.0001.0225
Ethel Magafan was a n accomplished muralist, working under the Works Progress Administration's Federal Art Project, the largest under President Franklin Roosevelt's New Deal art projects which employed approximately 10,000 artists. Magafan completed seven government sponsored commissions, including creating a mural for the U.S. Post Office in Auburn, Nebraska, the U.S. Senate Chamber, and the Social Security Building in Washington, D.C. Ethel had a twin, Jenne, who was an artist in her own right and often collaborated on these projects. Though Clothesline was published in 1975, its imagery evokes an earlier time and the nostalgia of clothing hanging in the wind, dried by the sun. Magafan sets this scene against a traditional American bar, the trees in the background also swaying against the breeze. Upon closer look, the artist reimagines shadows as pointed geometric shapes upon the ground, the bedsheets and clothing reduced to abstract form.