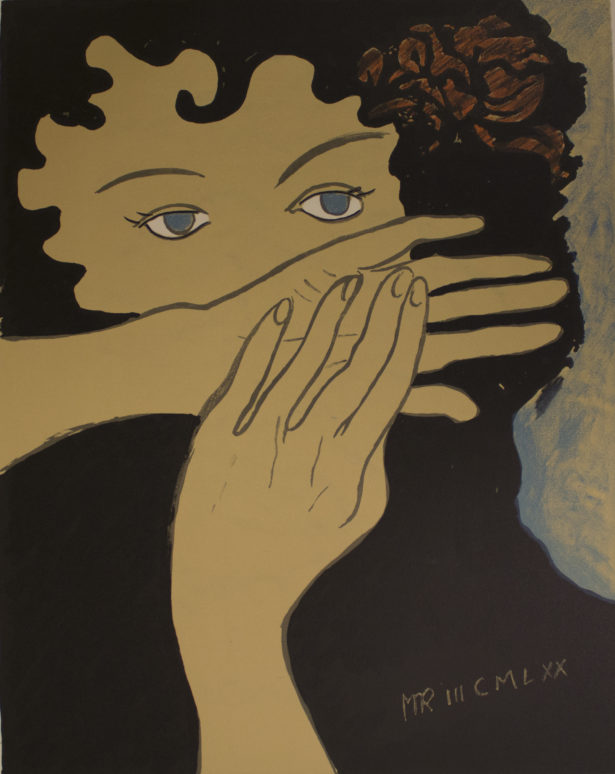 Julie
Julie, 1970, Lithograph
Man Ray (American, 1890 – 1976)
#1991.0010.0013

Man Ray was born in 1890 and developed as an artist during the American Modernist Movement in the 1910s. Man Ray experimented with a variety of mediums and styles in his early years as an artist, from cubist paintings and proto-Dada assemblages to photography. While living in New York, Ray befriended Marcel Duchamp and gained inspiration from the French artist's creations. By 1920, Man Ray had abandoned painting to involve himself with Dada, a radical anti-art movement that led him to produce unique objects like readymades (ordinary objects that were selected and potentially modified) and mechanical assemblages.
Man Ray moved to Paris in 1921, where he spent many years focused on photography. He lived in the artist hub of Montparnasse and exhibited his works at Surrealist exhibitions alongside Jean Arp, Max Ernst, Joan Miro, and Pablo Picasso. He proved to be an innovative force in photography, not only bringing surrealist conceptual elements to his work, but also developing and improving on photographic techniques.
This piece, Julie, is an example of Man Ray's lithographic work. While not as well known as his photographs, his lithographs form a sizeable chunk of the artist's repertoire. Man Ray has had a long lasting and groundbreaking influence on art. His accolades include the Royal Photographic Society's Progress Medal and Honorary Fellowship and a spot in many "most influential artists" lists.