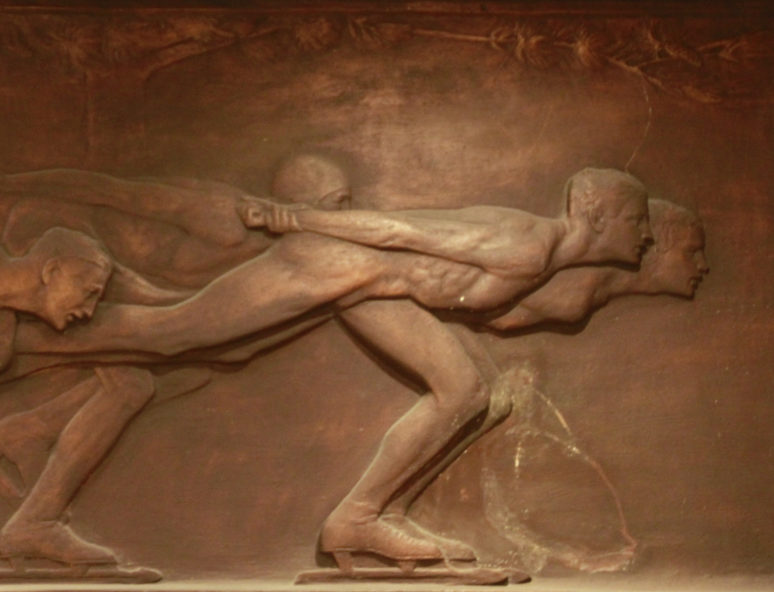 Brothers of the Wind
Brothers of the Wind, 1925, Bronze
Robert Tait McKenzie (Canadian, 1867 – 1938)
#0000.0810
One glimpse is all it takes to feel the adrenaline and excitement of the frieze's eight young skaters. With flowing grace, each figure challenges its seemingly static medium to instead speed past the viewer. When observed as a whole, the skaters form a cohesive unit of continuous motion that swiftly travels from start to finish of both the race and frieze - an elegant, uninterrupted line shaped by the athlete's musculature, effort, and balance. Through a mixture of Gothic-like linear rhythms and ancient Greece's precise bi-dimensional forms, McKenzie brings visual vibrancy and prestige to what is truly a masterpiece amongst his reliefs.
As with the rest of his best work, "Brothers of the Wind" is also a product of the sculptor's colorful past as an artist, academic, and sportsman. In this case, the piece reflects McKenzie's lifelong enthusiasm for skating, what some scholars even venture to describe as his oldest professional interest - a curiosity that he nurtured long before he wrote one of his first academic works, 1895's "The Typical Speed-Skater", in Popular Science Monthly. While we may never know for certain what specific aspects of the sport enticed McKenzie so early in his life, two facts seem likely: first, because of its need for precision and balance, ice-skating beautifully translates as sculptural art, especially when complimented by McKenzie's attention to anatomical details; second, the sport particularly resonates with the snowy, cold landscapes that must have dotted the artist's memories of his Northern native land.
(click images to expand)