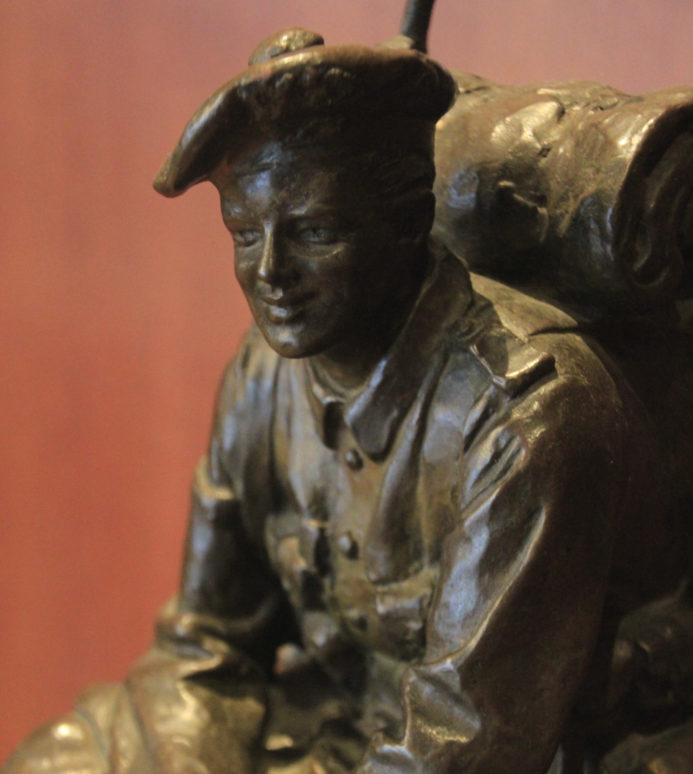 Blighty
Blighty, 1919, Bronze
Robert Tait McKenzie (Canadian, 1867 – 1938)
#1995.0009.0001
This sculpture represents a young member of the historic Seaforth Highlanders - a line infantry regiment from the Scottish highlands that served during both world wars. As with most of his other works, McKenzie has drawn from memories of his past experiences to successfully recreate human resilience; for this particular case, the artist probably used his service as a Major in the Royal Army Medical Corps during World War I to garnish the smiling soldier with accurate, life-like equipment. Throughout this period, aside from the usual medical labor expected of any doctor during wartime, McKenzie toured various field hospitals, only to note the lousy conditions under which many wounded men were treated. Recognizing the threat of these environments as well as the potential of his previous medical findings, he implemented his own scheme incorporating new hygienic procedures that allowed for better treatment for recruits, even under the unusual conditions of an encampment.
Originally, Blighty stood as the model for a much bigger memorial in remembrance of the Royal Army's war effort. Compared to the rest of McKenzie's long sculpture catalogue, Blighty stands out as the only artwork he produced during his active military service. Nevertheless, after the war, the artist quickly saw a flood of requests for memorials from different groups, institutions, and nations. As tangible proof of his expertise recreating humanity and virtue, despite their different origins, these statues successfully portray the perseverance and hope ingrained in each country's forces. Some of the most prominent examples include The Volunteer in his hometown of Almonte, Ontario; Alma Mater in the Girard College Memorial, Philadelphia; The Homecoming, in Cambridge University's War Memorial ; and The Call, the central figure in Edinburgh's Scottish-American War Memorial.
(click images to expand)